Queens
Funny  Bunny
Funny Bunny  , Brown (Black) Spotted Tabby, is our newest addition….she has good color nice rosettes.
She is very quite and a very attentive Mom…she takes very good care of her babies.  New pictures will be coming soon.  She is paired with Big Guy and they have outstanding rosetted kittens with the red golden hue or gray/black with striking color.
Misty Meryl
Misty Meryl is our newest addition, a marble girl…very sweet and gentle we are looking forward to her first litter some time in 2020.  This bengal should have nicely contrasting rosetted kittens and possibly marbles as well.

Lady Blue
Lady Blue is a Seal Spotted Lynx (Tabby) Point, is such a lady, beautiful bright blue eyes..Very elegant and quite as Bengals can be. A wonderful mother to her kittens. We are very pleased she is part of our Bengal Family.
She is paired with "Snow Bear" our seal point  lynx spotted snow Bengal or with "Big Guy" our phenomenal brown black rosetted Bengal boy.
Raven
Raven  Is our newest addition to our breeding program,  Nice rosettes and beautiful head conformation, quite a talkie girl. Pictures will be coming soon. And kittens as well in 2021.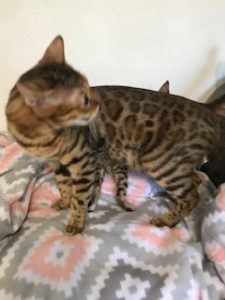 Jelly Bean
Jelly Bean is a beautiful sorrel/red color rosetted bengal, very quite and sweet.  Litters will be in 2021.