Studs

Cool Breeze "CB"
Cool Breeze is a very easy going boy….he loves to be petted, has bright green/gold eyes, of course very nice black ring rosettes.  He is one of ours and we are very happy to have him in our breeding program.
Max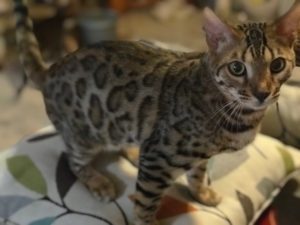 Max is our newest addition to our breading program. He is a second generation line. He is a very sweet natured large male Bengal with beautiful inky black ringed rosettes.

Snow Bear
Snow Bear is our Seal Spotted Lynx (Tabby) Point and Beautiful Blue eyes. He loves to sit on your shoulder and drool….very quiet nature. He is very watchful and elegant. When we breed him with our Lady Blue ( our female Seal Spotted Lynx Point ) we will have only Snows, all with the blue eyes. They are a very nice compliment to the brown spotted tabby.
Big Guy
Big Guy has phenomenal rosettes, very intelligent and watchful he has and is producing some very beautiful bengal kittens.